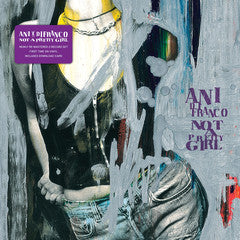 Ed's Recording work gets Kudos
Before embarking on a "career" in the wonderful world of audio retailing, I spent almost 24 years in the music recording industry, starting as an assistant engineer, became a chief engineer, then slowly evolved into a freelance producer/engineer.
One of the most amazingly talented artists that I worked with in my freelance years was singer/songwriter, amazing live performer, one woman tornado, Ani Difranco.  A diminutive Buffalo, New York native, Ani and I started working together in the early 90's, and had a long recording history up until almost the time that I took Executive Stereo over.  Ani would consistently amaze me with her incredible songwriting skills, unbelievable guitar playing, and huge talent as a vocalist that would sometimes bring me close to tears.  We often worked alone, just Ani and I, late at night in the studio, so I could let the tears stream down my face, ..like during the recording of  "Sorry I Am", from the album "Not a Pretty Girl " and get the tears wiped away by the time Ani got back into the control room.
Her skill as a vocalist was demonstrated by the emotion, inflection, and tone of her voice whether she was singing – screaming lines during her most emotionally draining songs, or whisper-singing a beautifully soft melody that the microphone could barely pick up….
So I knew that we had something very special in the songs that we recorded together, and Ani's legion of fans worldwide knew it too….but it's always nice to get a little critical acclaim from an audio equipment and music reviewer, like Steve Guttenberg, who writes for Stereophile and Home Entertainment magazines , as well as C/NET. Steve included Ani's album "Like I Said" in his picks of the best sounding 25 Pop recordings on the  HD Tracks website, and probably elsewhere too.  Ani and I recorded that album together and it was one of the highlights of my years working with Ani.
My history in the recording studio definitely gives me a unique edge in recommending audio gear to our customers and future customers, and allows me to give our clients the opportunity to hear their recordings in their homes, at a quality close to studio sound and either with the utter power needed for a song like Ani's "Dilate" or as intimately as I did for her "Sorry I Am" in the late night studio.