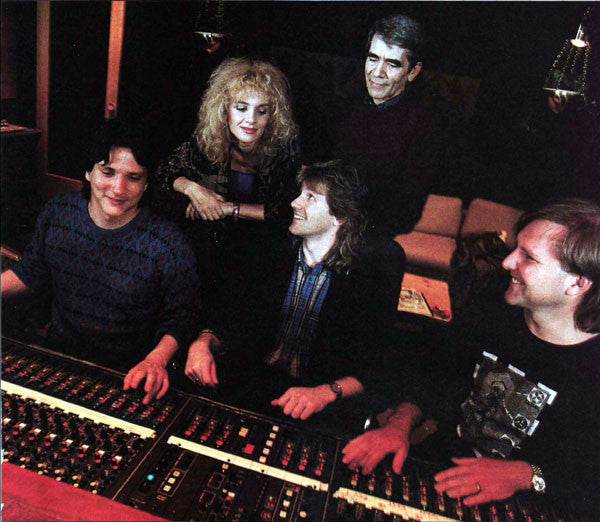 One of the great perks of working as a chief engineer in a studio on a daily basis, is that you really can get some choice sessions to work on, such as the project I worked on called " The Canadian Guitar Summit". This particular project was the brain child of Rik Emmett, who was the guitarist/vocalist for the great Canadian band Triumph, whom I had the pleasure of working with through most of the '80s, in their studio, The Metalworks. Rik was writing a column for Guitar Player magazine during this period, and he came up with the idea to have some of the top Canadian guitar players, whatever their style, play on a composition of his, called "Beyond Borders"  which would be recorded for release as a "sound-page" insert in Guitar Player magazine.
Luckily for everyone, the recording and touring schedules of these artists allowed Rik to assemble a truly 'all-star' cast for the recording. Ed Bickert, one of Canada's finest jazz guitar players, who  played on many well known jazz albums in Canada and the US, as well as being a regular in the Toronto recording scene, represented the Jazz genre. World famous classical guitarist Liona Boyd, brought her prodigious  talents to the project as well. That left Rik and Rush guitarist, Alex Lifeson to round out things on the rock side of  music genres.
It was a fairly complex composition that Rik came up with, as he was trying to give each artist a chance to demonstrate their incredible talents all within the same piece. So there were several movements, allowing time for each of  the players to have their moment in the spotlight, as well as playing as an ensemble. Each artist came in on their given day, and after having perused what Rik had written for them , each made suggestions and deletions or additions, to make the piece either better suited to their particular genre or playing style, but in general these changes were minimal, as Rik has a very good grasp of most styles of guitar playing. The sessions were certainly a technical challenge, as each artist had a distinct sound, which we HAD to capture, as well as vastly different styles of working in the studio and each had to be accommodated as best as was possible. The mixing of the very crowded 24 track tapes was completed by Rik, Alex and myself with each of us having level adjustment duties , in addition to what we could program into the automated mixing console.
In the end, I believe all the artists and Rik were very happy with the final product and the "Canadian Guitar Summit" issue of Guitar Player magazine was one of their best selling issues.